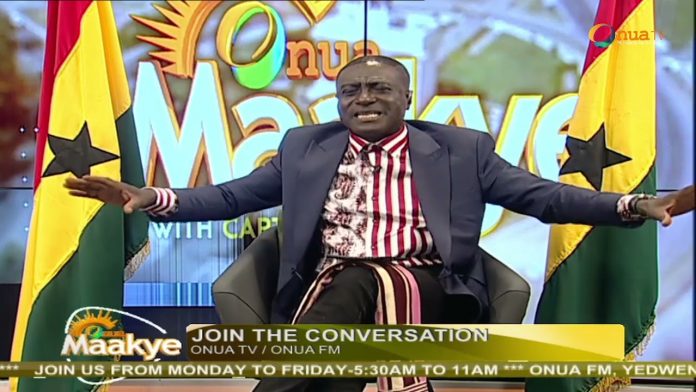 The posture and level of unseriousness exhibited by a co-chair of the 8-Member ad hoc committee hearing Ken Ofori-Atta on his motion of censure has been regarded as shameful by broadcaster Blessed Godsbrain Smart.
Kobina Tahir Hammond, a co-chair and Member of Parliament for Adansi Asokwa was ensuring his position in the NPP is retained according to Captain Smart, the reason he was full of jokes and trivialised the issues that went before the committee.
Speaking on his show, Maakye Tuesday, November 22, 2022, on Onua TV/FM, Captain Smart said "KT Hammond politically defecated himself in the public."
Be added further that, the minister and Members of Parliament who forfeited their duties to go and support the minister are all protecting their jobs since Ofori-Atta and his brothers are the ones ruling the state now.
"The MPs and those ministers you saw [at the Committee hearing] were all protecting their seats/positions. Ken and his brothers now rule the country. KT fears he would be ousted that's why he did that," he said.
He also alleged that, "the chiefs who came around were all moved by the Akyem Abuakwa Traditional Council. It was not their wish to go but a certain powers that be had asked them so they had no choice. Some of them were sleeping, some were whatsapping. Did you look at their faces? They even lobbied some pastors to go there and they refused."
Background
The Minority caucus in Parliament have filed a motion of censure on Finance Minister Kenneth Nana Yaw Ofori-Atta on eight (8) charges including exhibiting gross incompetence and conflict of interest in discharging his duties.
Some members from the Majority caucus have asked the President to sack him or he resigns upon the seeming difficulties he has subjected the citizens into.
But his cousin, the President, says he should stay to complete the IMF negotiations which he (Ken Ofori-Atta) is entitled to a 9% commission by virtue of his institution, Databank, being a financial advisor to the state on her loans.
Databank has been taking 9% of all government bonds and many believe the President wants his cousin to cash in the last $180 million before "deciding on whether he should be sacked or not."
But before any decision could be taken, concerns were raised for him to be heard on the principle of natural justice.
However, some Ghanaians who followed proceedings as televised on national television think KT Hammond compromised the seriousness of the hearing by doing the bidding of the President and the Finance Minister.
Credit,Felix Anim-Appau|Onuaonline.com