Ghanaian social media users have been grieving over the death of Ahoufe, a Ghanaian TikTok sensation.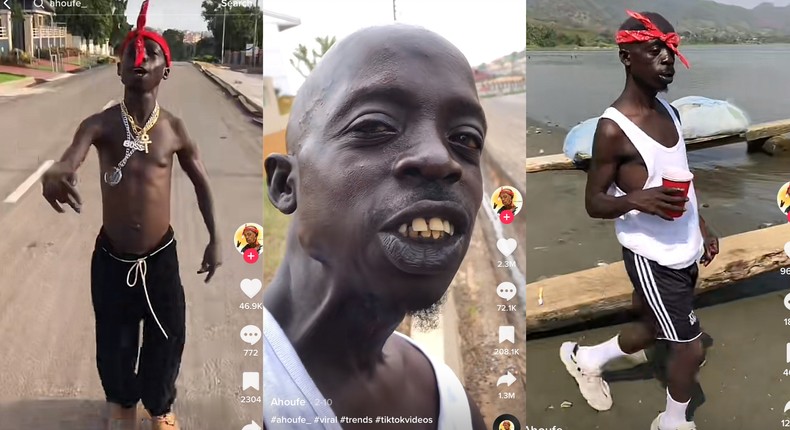 Ahoufe
The TikToker is said to have passed on yesterday, 30th March 2023. Ahoufe reportedly died in his apartment situated at Kumasi.
Ahuofe, who is based at Oforikrom in Kumasi, shot to fame as TikToker some months ago and gathered millions of fans. The TikToker's account amassed an impressive 3.9 million followers and over 39.8 million viewers on his Tik Tok's 217 videos.
Ahoufe's looks and style of mimicking the personality of the late American rapper Tupac Amaru Shakur has been his claim to fame.
The sad news of his death has been confirmed by Rapper, Jay Bhad of Asakaa Boys' fame who shared a video of Ahuofe jamming to one of his songs on Twitter. Adding a caption to the post, the rapper said "life too short rest well ahoufe U gonna be miss 4ever".
Accordingly, his death has gone global as it has been reported by international news outlets as his death news has been buzzing on social media, especially Twitter. "TuPac is Dead again. RIP Ahoufe," A tweep said in a tweet.
See ten viral videos below that propelled Ahoufe to fame
follow the links below for the videos
https://www.tiktok.com/tag/tiktokvideos?referer_url=pulsembed.eu%2Fp2em%2Fczm4VB9mz%2F&refer=embed&embed_source=121331973%2C120811592%2C120810756%3Bnull%3Bembed_hashtag&referer_video_id=7203417898424077574
#ahoufe_ #viral #trends #tiktokvideos
#ahoufe_ #viral #trends #ahoufeviral