Two persons suspected to be armed robbers have been beaten to pulp by an angry mob at Ninja Junction, a suburb of Millenium City in the Gomoa East district of the Central region.
The victims who wielded knives and other offensive weapons attempted to burgle a fenced house but luck eluded them as they were rounded up by some residents of the area.
Residents of the area say armed robbers and thieves have been tormenting them for a long time.
Some three persons suspected to be thieves burgled a house in the vicinity as thinking its occupants had gone to church on Sunday, May 8, 2023.
Nearby residents drew closer when an occupant of the house sounded an alarm. Two out of the three suspects were rounded up and severely beaten by the angry residents.
Chief of the area, Nana Okoforobour Amoani wants police to intensify patrols in the area in order to bring down the robbery and burglary incidences in the area.
He is worried that police did not show up at the scene even though they were promptly informed about the incident.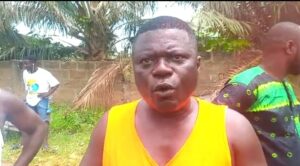 "I was dressed up for church and informed of the apprehension of some armed robbers. So I had to undress and rush to the place. We have been experiencing these robberies here all the time. Just last week they stole someone's car," he lamented.