After failed attempts to get people honour their television license bill, state broadcaster, Ghana Television (GTV), has threatened defaulters with the dreadful Nogokpo shrine if they fail to defray their debt.
The state broadcaster made a Facebook post Friday, May 5, 2023, with a shot of a sign post of the community with the caption, "Do you owe TV Licence Fee?"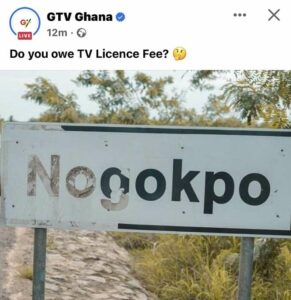 The TV license fee was introduced in Ghana in 1966 by the Broadcast Act to fund public broadcasting services.
Individuals and businesses owning television sets are required by law to pay an annual TV license fee of GH₵10.
The funds are used to support the operations of GTV and other public broadcasters.
But the failure on the part of many Ghanaians has led to the state broadcaster resorting to what it believes might make people pay, which is to hand them over to the notorious deity to recover the fees.
The threat to summon defaulters before the Nogokpo shrine, known for punishing offenders with spiritual illness or sometimes death has generated controversy and debate on social media.
Some netizens who chanced on the post find it funny while others deemed it unprofessional.
Critics argue that GTV's approach is archaic and amounts to psychological torture, while others believe it could compel notorious defaulters to pay.