Access to quality drinking water which forms part of sustainable development goal six (6) continuous to be a major challenge for many rural communities in Ghana.
Afrancho-Chichibon, a community with close to a thousand residents in the Atwima Kwanwoma district of the Ashanti region is one of the many communities facing such challenges.
According to residents of the community, they trek long distances before accessing water.
HIVE, a Non Governmental Organization (NGO) in the technology industry as part of the HIVE Empowers Communities Project and the commemoration of the Mother's Day celebration on Sunday, May 14, 2023, commissioned a mechanised borehole worth thousands of Ghana cedis for residents of Afrancho-Chichibon.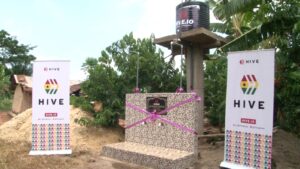 Residents of the community who saw access to quality drinking water as a luxury couldn't hide their joy after the donation.
In an interview with Onua TV's Issah Zakariah, the community expressed appreciation to HIVE and promised to look after the facility for their collective benefit.
The Assembly Member of the community, Kwame Boakye Yiadom was elated saying "water they say is life and we are grateful to HIVE for this great intervention. Previously, we used walk long distances to fetch water and before one finishes a first trip he or she is very tired. It was not even of any better quality. This water project will benefit us greatly and we will protect for its longevity."
Sister Pat, a farmer in the community added saying "We are suffering because of the unavailability of quality water. Our plight even gets worse during the dry season. So we will want to thank HIVE for this intervention but we still have many other challenges and we call on you to come to our aid,"
The country coordinator for HIVE, Benjamin Awuah revealed the motivation behind the kind gesture to the community and called on residents to protect the project for it to serve its intended purpose.
"Access to water is a major challenge for many communities in Ghana. So we took it upon ourselves to help make purified water accessible to rural communities as part of efforts to achieve sustainable development goal six. The community has promised to take care of the facility and we hope that this project achieves its intended purpose", he was optimistic.
The NGO also conducted an eye screening exercise for members of the community to commemorate the Mother's Day celebration.