A swift intervention by an Immigration officer, AICOII Nurideen Abdul Ganiu, stationed at Sehwi Wiawso in the Western North region, saved two police officers who would have been killed by a mentally challenged man on Saturday.
The two police officers at Wiawso were reportedly subdued by a mentally challenged man who attacked worshipers and people in the streets with knives, catapults, and mortar pestles.
According to sources, the alleged madman was chained at a prayer camp at Sehwi Ewiase, a suburb of Sehwi Wiawso. But when he had the opportunity to break the chains on his legs and hands at the prayer camp, he hit the street and stabbed two persons. Which eventually brought fear and panic among the residents in the area.
The police in Sehwi Wiawso then received a distress call to come to their rescue, but upon reaching the scene, the two police officers tried several means to get the attacker arrested but failed.
In the process, the mentally retarded man violently attacked one of the police officers with a mortar pestle leaving him unconscious on the ground. The 26-year-old alleged mentally handicapped man continued to attack the other officer as well.
The Immigration officer, AlCOIl Nurideen Abdul Ganiu was returning from work when he noticed there was a crowd around shouting for help.
According to an eye witness account, the Immigration officer upon reaching the scene and a police officer in the rank of inspector lying unconscious on the ground, and a corporal under attack with an AK-47 Rifle on the ground sensed danger with both officers on the ground and onlookers scared to get closer to assist.
Mr. Nurideen quickly picked up the AK-47 Rifle before the madman could pick it up. The action of the Immigration officer angered the mentally retarded man, and walked violently towards him with the same mortar pestle he used to attack the police officers.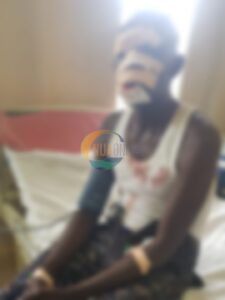 The Immigration officer fired a warning shot but it did not scare the madman and kept moving toward the Immigration officer to attack him.
Subsequently, the officer managed to move the mentally challenged man from the crowd and shot his right thigh, and was apprehended.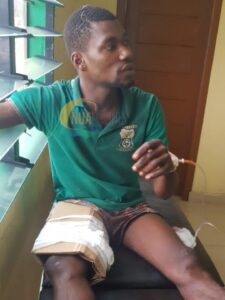 The items retrieved from the suspect include a sharp knife, catapult, and mortar pestle.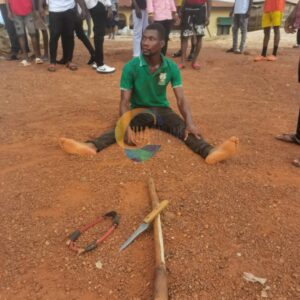 However, the two police officers and the mentally challenged man were taken to the Sehwi Wiawso Government Hospital for treatment. A formal report has been made and the Police AK-47 rifle has been handed over to the Wiawso District police for further action.