The Asantehene, Otumfuo Osei Tutu II, has said he is not happy with his chiefs in the Amansie area where illegal mining also known as galamsey has taken over the landscape.
According to him, his chiefs are aware that he (Otumfuo) has been speaking earnestly about illegal mining and that he is never pleased with them yet they are looking on for the menace to perpetuate.
Otumfuo made the statement while speaking at the official launching of the 2023 Green Ghana day event in Kumasi.
The Asantehene has reiterated his commitment towards preserving the country's vegetation cover despite persistent destruction of forest reserves by illegal miners.
The Green Ghana day was instituted by the government to curb increscent degradation of the country's forest reserves which had been going on for years without any conscious efforts to replace them.
Otumfour Osei Tutu II, who graced the occasion expressed disappointment in chiefs of Manso and Amansie districts of the Ashanti region who for some years have looked unconcerned for illegal miners to destroy forest and river bodies under their control because of their interest.
He said the government cannot combat the illegal mining menace that threatens the country and vegetation cover and therefore encouraged all Ghanaians to come on board to confront the situation.
He disclosed his intention to tour Manso and Amansie districts soon to have a feel of the destructive work illegal miners have done to forest and river bodies.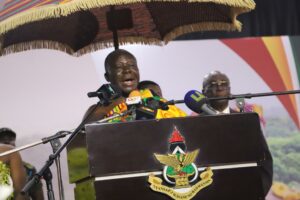 According to him, available data suggest that deforestation and forest degradation arising from unsustainable land use for agriculture, illegal mining and illegal logging cost the country 2.8per cent of GDP.
He expressed worry about the increasing rate of deforestation and forest degradation in the country.
The overlord of the Ashanti kingdom also charged institutions to take responsibility for their role in the continuous degradation of the environment.
He pointed out that both the chieftaincy and government institutions could not claim innocence of activities of illegal miners within their respective jurisdictions and pledged to deal with chiefs who allow illegal mining in their traditional areas without taking any action.
Otumfuo was not happy about the level of land degradation through illegal mining at places such as Manso-Nkwanta, Manso Adubia and other areas in Amansie.
"If you sit there and say that you don't know what is happening, then you are not fit to be chief," he added.
The Minister of Lands and Natural Resources, Samuel Abdulai Jinapor said between 2010 and 2015 alone, a total of 160,210 hectares of forest reserves were lost to human activities. However, between 1953 to 2016, a period of 53 years, only 157,300 hectors were cultivated, less than the amount of forest reserve lost in just 5 years.
He explained this development compelled the government to adopt aggressive measures to check illegal mining activities across the country's mining area and restore lost vegetation cover.
This year's Green Ghana project seeks to plant at least 10 million trees across the country targeting depleted forest reserve areas as a result of illegal mining activities to establish new plantations with indigenous species.
The exercise also aims at replacing dead seedlings planted last year in the forest areas across the regions.
Seedlings will also be distributed to groups and individuals to plant in their homes, schools, churches, palaces and other lands available to the Forestry Commission.
Chief Executive of the Forestry Commission, John Allotey, disclosed plans are far advanced for the programme to ensure field operations are effectively executed.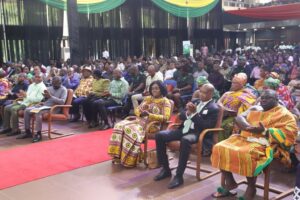 He said one year after planting trees in 2022 edition of the project, 72 per cent of the seedlings have been confirmed as doing well.
He added that 35 per cent of the seedlings were planted in forest reserves.
credit|Onuaonline.com